Christmas Morning Cinnamon Toast
Pamela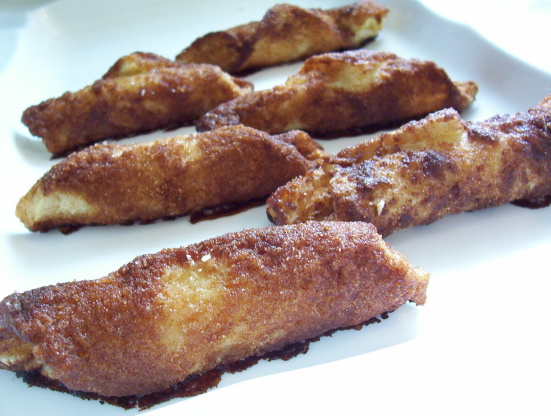 This is so good. You can make it ahead of time and then pop it in the oven on Christmas morning. My kids love it year round. It is always a big hit at any breakfast or brunch.

We added strawberry or peach jam in with the cream cheese mixture before we rolled up the bread. Absolutely fabulous and my four children have requested it become a regular in our "brunch" routine. Thank you so much for submitting the recipe!
Mix first three ingredients well.
Cut crusts off 2 loaves of sandwich bread.
Roll each slice as flat as possible with rolling pin.
Spread sugar, egg yolk& cream cheese mixture on bread and roll into crescent.
Melt margarine.
Mix sugar with enough cinnamon to make it dark.
Roll crescents in melted margarine, then in cinnamon-sugar mix.
Freeze on cookie sheet for 30 minutes, and then put in plastic bags.
When ready to bake, remove crescents from plastic bags and place on cookie sheet. Bake frozen at 400 for about 10-15 minutes.