jillyc49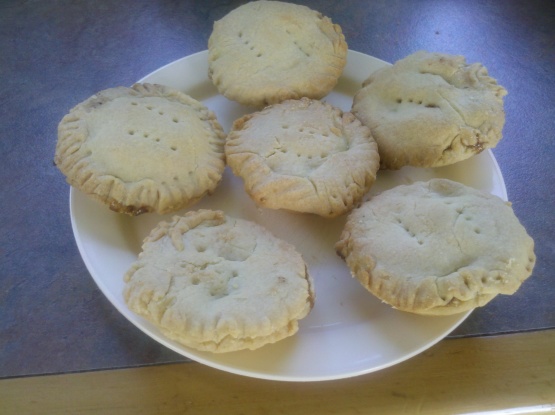 For years it was a family competition of sorts to see who would be the first to bring home Christmas mince pies to share. When my mom started making these, the store-bought ones suddenly became so mediocre that our annual bit of fun fell away because no-one would eat them anymore!

Top Review by 2Mells
Exactly what I was looking for, with the huge bonus of actually getting a recipe to make *quick* fruit mincemeat myself - which is important in a country like Germany (they don't know what fruit mince is, so it's impossible to get hold of in supermarkets and so forth). So thanks! (-:=
QUICK FRUIT MINCEMEAT:.
Combine all ingredients and set aside for flavours to infuse.
PASTRY:.
Sift flour, cornflour, and icing sugar.
Rub in the butter.
Beat egg and vanilla together then add, mixing well.
Knead into a ball without overhandling the pastry.
Roll out thinly on a floured board and cut into 3" rounds.
Reroll offcuts until all the pastry is used.
Place rounds in a patty pan, place a heaped teaspoon of filling in the middle of each pastry round and cover with second pastry round.
Press edges together with the prongs of a fork and prick each top twice.
Bake at 350F for 18-20 minutes or until pale gold.
Leave to cool slightly before removing to cooking rack.
Dust lightly with icing sugar.
COOKS NOTE - If you don't have a patty pan, place the pies on a cookie sheet rather than in a muffin tray, which is too deep.