Christmas Keeping Cake (Fruitcake-Like, Less Fruit)
MrsK3343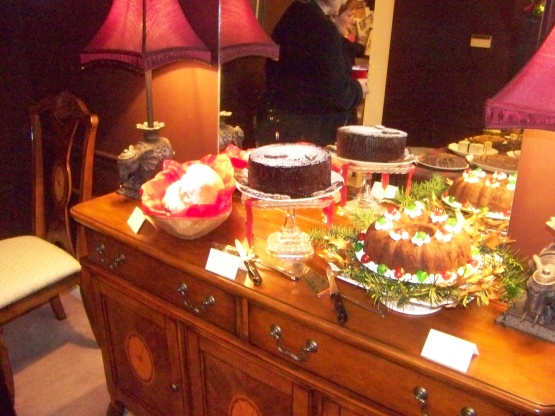 From "The Spirit of Christmas Book III," Leisure arts, 1989. Made it for 2009 Christmas party—delicious, and not too "fruity." People who don't like fruitcake loved it. It has the most delicious scent when you unwrap it that remains until the last slice is eaten. I believe it took mine no more than 2 hours to bake. Keep an eye on it, so the cake won't dry.

I was wondering if I should risk it since there are no reviews yet. I followed the recipe except 2 things: I didn't add pecans (didn't have any) and baked for 1 hour 10 min. Are you sure the original recipe says over 3 hours? My cake started to become dark brown after 1 hour so I thought there may be a mistake in the posted recipe. Besides I've never heard of any cake that needs to be baked for 3 hours. I made it last night and tried today with coffee, it is really tasty, fruity but not too sweet. I think it would be even nicer with pecans. Now, I made a small mistake, didn't spray the tin properly and now it looks like the cake doesn't want to come out easily. Instead of risking taking it out and breaking it, I'll pour a few teaspoons of brandy and try what's it like in 4 days (Christmas). The other cake (I made 3) I'll pour brandy on and keep for 4 weeks, like in the recipe just to find out how much it improves. Btw, I heated Curvoisier brandy and soaked my raisins in it for 24 hours before adding to the dough. Thanks for posting!
Cream butter and sugar. Beat in egg yolks until fluffy.
Dissolve baking soda in buttermilk; beat it into eggs.
Combine 2 1/2 cups flour with spices. Add to egg mixture, alternately with jam.
Beat egg whites until almost stiff and fold into batter.
Combine remaining flour with pecans, raisins and dates; fold into batter.
Pour into well-greased and floured 10" tube pan. (I used bundt pan.). Bake at 300 F 3 to 3 1/3 hours (depends on oven). (NOTE: I believe it took mine no more than 2 hours to bake.) Place on wire rack until completely cool.
Soak cheesecloth in liquor and wrap cake. Wrap with foil. Brush with more liquor every week, closing tight with foil. Let age 4-6 weeks in cool place.