CarolAT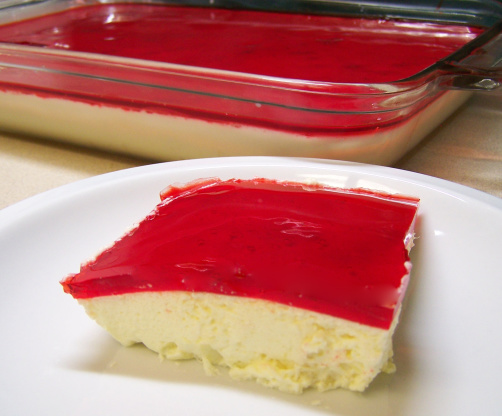 It just would not be any holiday in our house without this jello salad. My mother-in-law was the one who started this tradition many years ago, and now has passed her recipe on to me. This rich jello salad has a beautiful presentation with the cherry and lemon jello. To cut a few of the calories from this salad, I use the 1/3 less fat cream cheese and sugar free jello.

Top Review by T.O.M.
This salad was a major hit when our extended families got together for Christmas dinner. Instead of the whipped cream we used an 8-ounce tub of lite Cool Whip. And since we live in Texas where no fancy dish is complete without pecans, we added a cup of pecan pieces to the bottom layer. This adds a nice crunchy note to the texture. To me the salad had a slightly pronounced mayonnaise flavor and oily mouth feel, although my wife said she didn't notice it. We might try it with lite or fat-free mayo next time. A real keeper - this one will be a tradition for us. Thanks for posting it.
In a medium-size pan, bring 1 1/2 cups water to a boil and stir in lemon jello until dissolved. Reduce heat to low and add the marshmallows, cream cheese, and mayonnaise. Stir or whisk until all the ingredients are completely dissolved. Turn the heat off.
In the same pan, add the drained pineapple and mix well. Set aside.
In a small chilled bowl, mix the whipping cream until soft peaks are formed. Fold into the jello mixture.
Pour into a 9x13 glass dish and refrigerate until set.
Topping:.
Mix cherry jello into 1 1/2 cups of boiling water and stir until dissolved. Let cool to room temperature.
Once the lemon mixture has set, pour the room temperature cherry jello slowly on the the top and refrigerate until set.