Suzie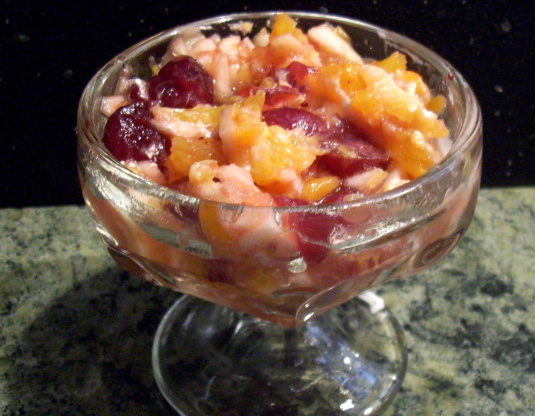 This a recipie we came up with one day with what we had on hand. When my husband tasted it, he said, "it tastes like Christmas!"

What a wonderful and simple fruit salad! And your husband hit the nail on the head...it does taste like Christmas! I made it for dessert tonight thinking that my fruit loving family would be eager to try it. However, the thought of cranberry sauce being added to the mix had all but one shying away. My daughter and I both enjoyed this very much and look forward to having the leftovers tomorrow as part of our lunch. Thank you hunnymoonerz for sharing this very unique and tasty recipe. I will definitely be making this again. Made and reviewed for the Spring 2011 PAC.
Core and slice apple, peel and section orange.
Pulse apple and orange in food processor a few times until coarsely chopped, or just chop them up.
Mix cranberry sauce and cinnamon with apple/orange mixture in bowl and refrigerate until serving.