luvcookn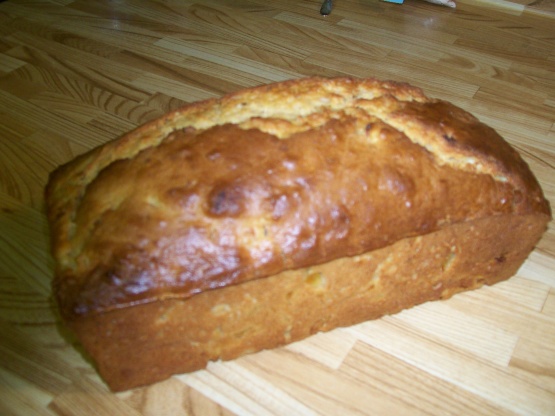 This came from a friend. I made this as written and it turns out beautifully every time. I always include a loaf of this bread in my Christmas crates that we make up for my family. I have included 3 variations I came up with. We love this bread toasted. Yes...toasted. What can possibly be wrong about toasted cake? Try it...you just might like it. Try it for breakfast instead of regular toast. This makes a large loaf and freezes beautifully.
Beat sugar and egg in mixing bowl.
Beat in melted butter.
Add eggnog and extract. Mix.
Sift flour, baking powder, salt, cinnamon and nutmeg over the eggnog mixture.
Stir until moistened.
Mix in nuts and fruit.
Turn into greased 9x9x3 loaf pan.
Bake at 350 degrees for about 1 hour until an inserted wooden pick comes out clean.
Let stand for 20 minutes.
Turn out onto rack to cool.
Variations: Use measurements above.
Pecan and Dried Cranberries.
Pineapple and Coconut (drain pineapple).
Walnut and Raisin (raisins soaked in Apricot brandy or any other fruity juice and then drained).