3 Reviews
I actually made these eggs for Christmas breakfast and we thought they were sensational. The cream cheese makes them wonderfully rich and creamy.

Such nice scrambled. They are very moist and creamy. Thanks for sharing.

A lovely way to start Christmas morning, or any morning, for that matter. I made this exactly as posted, and found that the cream cheese really added the perfect touch. Will definitely be making these again! Thanks for sharing.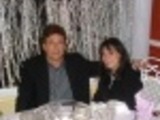 Christmas Brunch Scrambled Eggs