Christmas Brunch Scrambled Eggs
lazyme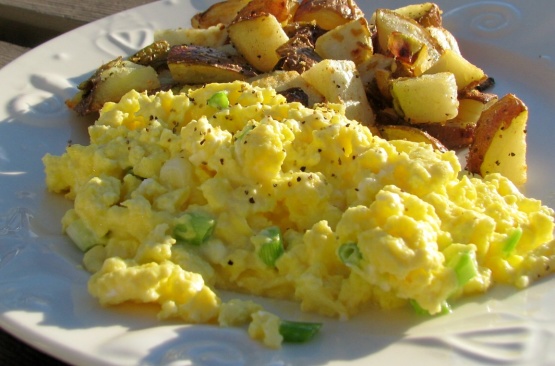 A very special way to prepare scrambled cggs. I make these for brunches and Christmas morning. They are so simple, I've even thrown them together for a delicious quick dinner--Yum!

I actually made these eggs for Christmas breakfast and we thought they were sensational. The cream cheese makes them wonderfully rich and creamy.
Beat together the eggs, green onion tops, milk, salt and pepper.
In a large, lightly oiled skillet, heat the butter to sizzling. Pour in the egg mixture.
When the eggs just begin to set on the bottom, run a spatula underneath, allowing the uncooked egg flow to the bottom of the pan. Sprinkle in the cream cheese pieces.
Continue cooking in the standard manner for scrambled eggs.
When the eggs are set, the cheese will be melted.
Serve immediately. Garnish with parsley.