Christine's Meatball Subs
Bergy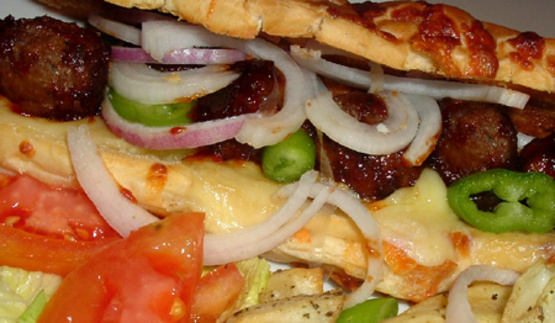 These are good, still a work in progress though. Make these and tell me what you think, thoughts and suggestions appreciated!

Top Review by Bergy
Excellent meat balls. They remained soft & moist. I cut back a bit on the sauce. I made the whole recipe of meatballs and will freeze some.I only made 1 sub sandwich. For the cheese I used a Dutch cheese - Neerdammer - it melts nicely and has a mellow flavor Served with onions, Anaheim Pepper rings, Lettuce. Tomatoes. and oven Fries Thanks Christineyy! for a tasty Saturday night dinner.
Meatballs: Combine bread crumbs and water to moisten. Add beef, cheese, egg white, oregano, onion, garlic powder, and pepper. Mix by hand until just completely combined, but do not overmix.
Shape into 26 meatballs and place in foil lined, greased baking dish. Bake at 425 degrees for 12 minutes or until completely cooked through.
Sauce: While meatballs are cooking, combine sauce, black pepper, cayenne, salt, and thyme in saucepan. Heat over medium-low heat.
As soon as meatballs are done cooking turn oven onto broil. Pat off extra grease from outside of each meatball and place into saucepan with sauce. Stir and cover each meatball completely with sauce. Let simmer for 10 minutes.
Cut each bun in half, tear out inside of top of each bun and fill with 3-4 meatballs each plus sauce. Top meatballs with cheese and bottom of bun.
Wrap each sandwich separately in foil and place directly on baking rack of oven. Broil for 5 minutes.