Christie's Chocolate Chip Cookies
CoCaShe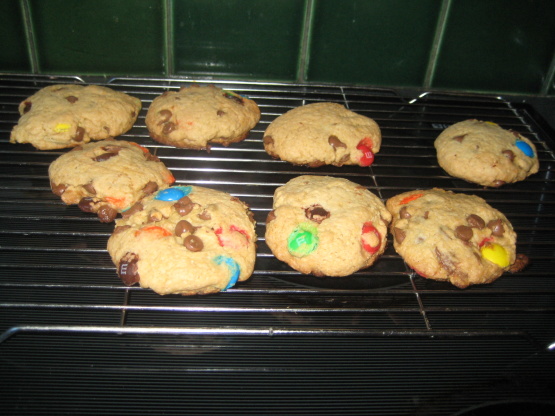 I adapted this recipe from Bev's Oatmeal Raisin Cookies they are the most amazing biscuits and I wanted to see if they would taste just as good without the oats and raisins but with chocolate....they do :) Used 1 cup of M&M's and 1 cup of chocolate chips....but you may like to use something else.

The only reason I'm giving this recipe a 4 instead of 5 is because although the cookies are good, there's nothing really special about them and they turned out a bit too sweet. However, I scaled the recipe down and it seemed like I used too much chocolate chips. I loved the idea of using M&M's, though! PAC 2011
Beat the sugars and butter until smooth.
Add the egg and vanilla.
Sift the flour, biking soda and salt together and mix into the wet mixture.
Mix in the chocolate chips.
Roll into balls and place onto the baking tray.
Flatten slightly.
Bake at 180ºc for 10-12 minutes.