Chrissy's Crock Pot BBQ Chicken
daggle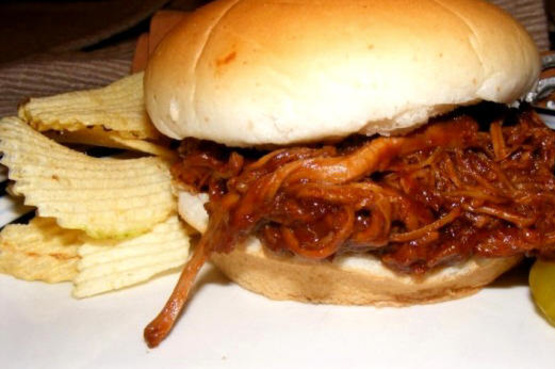 Good old down home cookin' YUM YUM (crock pot style)

I tried this and it was wonderful,my daughter dont like chicken but she ate this right up.keep up the good work.
Remove any excess skin or fat from chicken breasts.
Cut chicken into slices.
Place in a skillet and cook until the pink is gone.
Put cooked chicken in the crock pot and pour BBQ sauce over and mix.
Use as much or as little sauce as you like.
I usually just pour the whole bottle in there.
Cook on"low" for 6-8 hours or"high" for 3-5.
It tastes better when cooked longer.
The chicken really soaks up the sauce.
Serve with corn bread, fried tators& onions and a salad (for those of you who just HAVE to have something green).
YUM YUM.