My friend Chrissy is famous for this Baked Brie. I made it for the first time this year at Thanksgiving and it was a huge hit.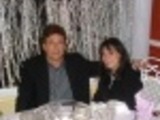 This was fantastic! Everybody who tasted it couldn't stop eating it. I used apricot fruit spread, which was matched perfectly with the caramelized onions. Because of the crescent roll shell, I did not serve this with crackers, but sliced it. The shell held up well, holding the gooey goodness inside. Even after sitting out for a while and not being as warm as when it came out of the oven, the slices were still delicious! I will definitely be making this again. Thanks for posting. Made for Spring PAC 2009.
1

(5 inch) diameter brie round
1⁄2 cup butter, yes real butter

1

cup chopped walnuts

1

medium white onion

2

(8 ounce) packages crescent rolls

4

tablespoons jam, I like apricot
crackers or French bread, for serving
Saute 1 stick of butter in a pan with 1 medium white onion sliced into thin slivers.
Add sugar by the tablespoon to caramelize once onion gets rolling (starts to get cooked, etc.) I likely add 3 tablespoons and sometimes a bit more butter to get a good consistency, a bit sticky, not too thin.
Add walnuts as you caramelize.
Layer deeper pie pan or circle dutch oven with Crescent rolls. (To make a sheet to wrap up the brie later). I normally buy another package of crescent rolls to have 4 more triangles to work with to make it look pretty.
Cut brie circle in half across the circle so that you get two circles.
Place bottom circle on crescent roll layer, spread raspberry/strawberry/apricot jam to cover circle, then half of caramelized walnut/onion mixture.
Place second brie circle and layer again.
Pull triangle folds over brie/jam/onion layers to create a pie look.
Bake in oven at 350 degrees for 25 minutes at least.
Crescent roll should turn golden brown and brie inside should get gooey (might even burst out but that's ok and very tasty!).
Serve over big & sturdy crackers or french bread -- Enjoy!