Chickee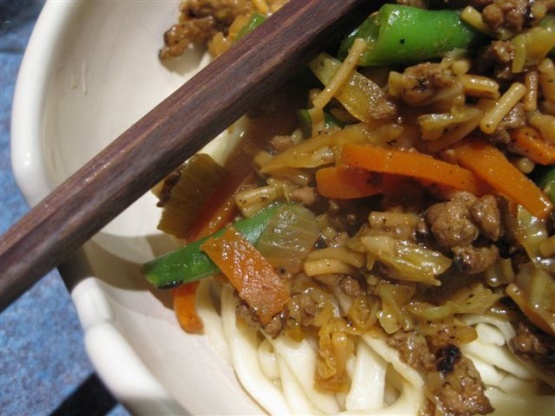 This is a really old fashioned dish my mum used to make. Tomoko has come to live with us, and tonight she made this for her first cooking lesson. Now I'll post it here then print it out for her.

I made this the other night. I didnt use this recipe, but it is exactly the same as mine, except I add 3 tablespoons of long grain rice, which I sprinkle over the cabbage. Thing is, I didnt have rice, so I used orzo, I didnt have chicken noodle soup, so I used stock powder. it was awfull!! make this recipe, its perfevt!
Heat the oil in a large wok or saucepan over medium heat.
Add the onion and cook until softened.
Add the meat, and cook until the meat changes colour.
Now add the remaining ingredients, and stir well.
Bring to the boil, then simmer for about 30 minutes or until the vegetables are well cooked, stirring occasionally.
Serve in deep bowls over steamed rice.
*This is a really old fashioned dish, and I like it well cooked, not crispy like modern Chinese food.
It's even better reheated the following day.