WiGal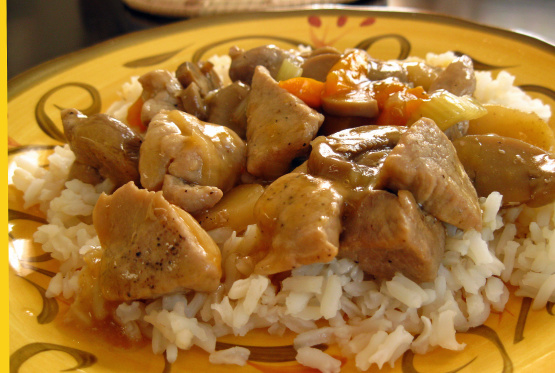 This recipe is from my husbands side of the family. They don't use measurements or amounts when they cook, so I will do my best to give approximates. You can adjust accordingly. This is a good, easy, fast recipe that is great for a weekday meal. We serve it over rice and chinese noodles. Yum!

Top Review by WiGal
Versatile and delicious! Love how it uses ingredients that I typically have on hand. I seasoned pork with about 1/4 teaspoon of pepper, used about 1 1/4 cups water, added 3 tablespoons of soy instead of 2, and used the stated amount of chicken bouillon. I put soy and bouillon in right away with the veggie/meat so it would saturate the meat while simmering. I ended up using 2 tablespoons of cornstarch to thicken but that depends upon the water amount. Made for my PAC Spring 2010 baby!
Season pork pieces with salt and pepper. Brown pork over medium high heat. Once browned, add enough water to cover the pork. Bring to boil.
Add onion, celery, green pepper, mushroons and water chestnuts. Cook until the veggies are tender.
At this point you may need to add more water depending on the amount of sauce you desire.
Add chicken bullion and soy sauce ( to taste).
Mix the cornstarch with a bit of water and add to pan. Sauce will thicken. (adjust amount of cornstach based on how thick you want the sauce).
Adjust seasoning, serve over rice and/or chinese noodles.