gueri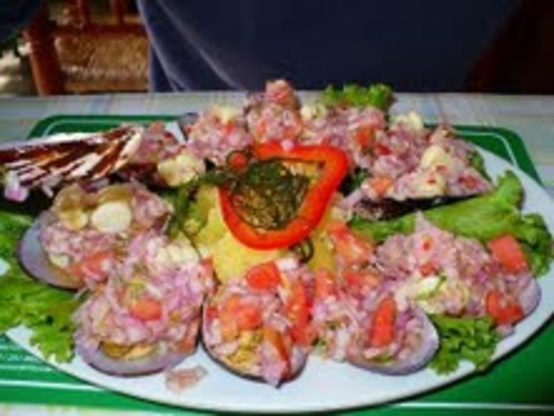 I enjoyed this appetizer this year on christmas eve and have been craving it ever since. I add tomatoes into the mix for added color and flavor.
36

mussels (boiled until open, left intact on a half shell)

6

tomatoes (I use roma, finely diced)
3⁄4 cup cilantro (diced)

1

small red onion (finely minced)

1

(16 ounce) can yellow peppers (aji amarillo)

1

tablespoon msg
Place the can of aji amarillos with their juices in a blender and puree for 1 minutes.
Place the tomatoes, onions, cilantro, and blended aji's in a large bowl.
Add the msg and the lime juice.
Place the mussels on a half shell on a serving platter and top each with one tablespoon of the Aji mixture.
Serve with a nice cold beer and enjoy!