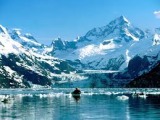 This is a fantastic recipe that you can prep ahead! I've served these taquitos, sliced in half, as appetizers. The chorizo gives them a nice zing. You may serve these with sour cream and/or guacamole on the side. This is a Sandra Lee recipe. Delish!
Directions
Preheat oven to 400 degrees.
In a large skillet, saute the sausage over medium heat until browned - about 6 minutes (I like to break it apart into smaller pieces while it's cooking).
Drain 1/4 cup of oil from the cooked sausage.
Set sausage aside to cool.
Stir salsa and cheese into the skillet of sausage, mix well.
Place a tortilla on a work surface and spoon 1/4 cup of the sausage mixture down the center.
Fold tortilla in half, then roll up.
Secure with toothpicks.
Place on foil-lined cookie sheet.
Repeat until all sausage/tortillas are gone.
**You can prepare ahead until this point, and keep in the refrigerator until you're ready to bake**.
Bake until filling is hot and tortilla is crisp and golden brown - about 18 minutes.
Cut taquitos in half, crosswise.
Serve hot with your choice of condiments!
Reviews
Most Helpful
Delish. I used medium sized wheat tortillas, so mine were a bit "fatter" than a typical taquito however we were using them as a main dish so it was perfect. If you are using them as an appetizer, do use the larger tortillas. I thought it was going to be very spicy and it was simply mild Mexican flavors. Very good.
This was absolutly delicious. I flash froze mine. Then heated them up about 2 days later for a weekday meal. The ingredients only cost about $4.00 and great to keep in the freezer. My husband and I are going to add refried beans and make burritos with this recipe as well.
I used soy chorizo(vegetarian) and it turned out great! I topped with sour cream. Thanks! Made for Everyday is a Holiday game.