JustJanS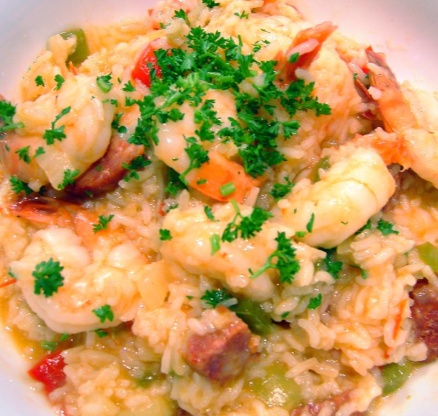 I've made this a couple of times, to rave reviews from my family. It's really easy to make, it's tasty and hearty, and makes the shrimp go a long way.

I thought this recipe was ok. I found it to be a bit salty. I think next time I try it, I will substitute brown rice and maybe leave out the chorizo.
Heat the oil in a large lidded frying pan over medium-high heat, Add the onion and bell peppers and cook for 2 minutes.
Add the garlic, and continue to cook for a further 3 minutes, stirring occasionally.
Add the tomato, rice, salt and pepper to taste and cook for 2 minutes.
Stir in the chorizo, then the stock and bring to the boil.
Reduce the heat to low, cover and simmer for 15 minutes until the rice is tender, but the dish is still moist.
Add the shrimp, stir through and cover.
Cook for about 5 minutes or until the shrimp turn pink and the liquid has been absorbed.
If it looks too moist, simmer an additional 2 minutes uncovered.
Taste, adjust the seasoning if necessary, sprinkle with the parsley and serve.