Feej3940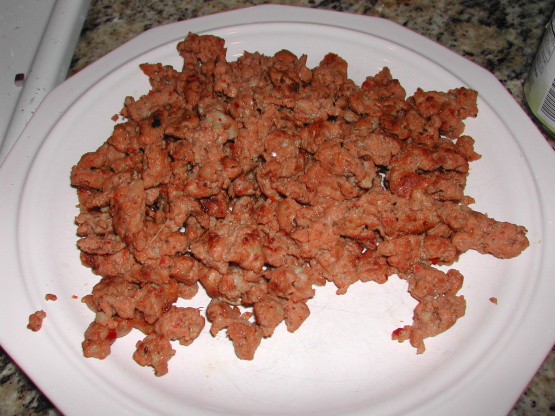 Chorizo is a chile-garlic flavored sausage much loved in Mexico and the American Southwest, but most of the commercially-available kinds are made with beef byproducts (such as salivary glands) that don't appeal to many folks. Here's a great recipe that uses ground pork, instead. It is a fresh sausage, so cook it thoroughly. It's highly flavored, so a little goes a long way. It is convenient if it is wrapped and frozen in small packages. Chorizo can be used in many ways! For breakfast, saute it and add to scrambled eggs. Fry up some chorizo and add some beans and spices, or grits or potatoes. Add it cooked to your burrito or taco fillings. It also is good to add cooked to a red chile sauce, stew, or any other dishes you'd like to have a nice Mexican flavor. I moved 25 years ago from the Southwest to Lancaster Co, PA. Finding chorizo up here is hit or miss, but I have a serious fondness for it. Until I saw this recipe, it never occurred to me to make my own, so a great big THANK YOU for posting this. I wanted to have plenty on hand, so I doubled the recipe, then made patties of about 1/3 pound each and put them in freezer wrap. The brown sugar seemed an odd ingredient, but I found that with all the spices, it's actually essential. It's very satisfying to know I'm going into winter with plenty of chorizo on hand. Thanks again!!!
Break the colorin chiles into 3 pieces, and put them and the deArbol peppers in a bowl.
Pour the boiling water over them and let them sit until they're re-hydrated and soft.
Place the re-hydrated chiles together with the liquid into a food processor and add the garlic, oregano, cumin, black pepper, sugar, vinegar, tequila, and salt, and process until the mixture is smooth.
Place ground pork and the liquid mixture into a sturdy electric mixer (such as a KitchenAid) and mix well.
When secured in a sealed container, this chorizo keeps well in the refrigerator for a couple of weeks. I usually let it sit in the fridge for a couple of days to let the flavors meld, then divide it into smaller portions of 3 to 4 ounces (that's about two servings) and freeze it. If you have casings, you can also stuff it into those and smoke it - very tasty!