Chorizo Potato Quesadillas
WendelMc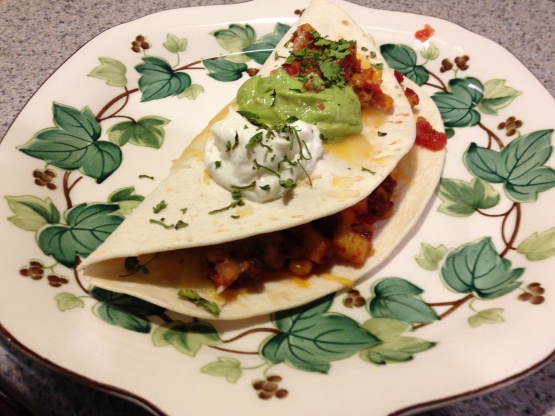 This is a hearty meal, i double to have leftovers & serve with a nice green salad. Recipe from Canadian Living March 2001.
Cook onions& sausage in oil, in a skillet on medium-high heat for 5-7 mins, stirring occasionally.
Add diced potatoes, cook for 5 mins or until golden, increase time by 7-10 mins if required.
Stir in salsa, corn, chopped coriander& salt.
Spoon 1 cup onto half of each tortilla, sprinkle with cheese, fold uncovered half over filling half.
Bake in oven at 350 until cheese melted or in skillet for a few mins on each side (i use oven).