Chorizo Lentil and Black Bean Hash
rpgaymer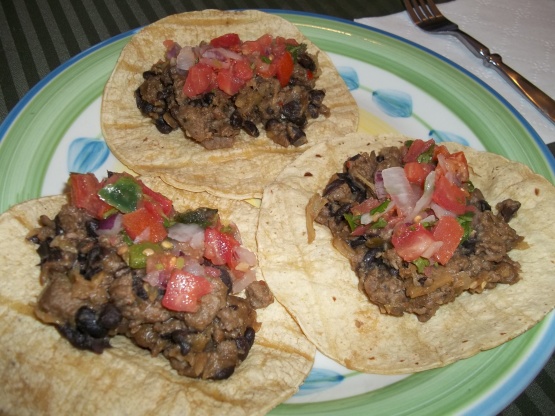 I had some Chorizo to use and this all fell into place with leftover beans and lentils from the fridge. Serve warm on corn tortillas with cilantro and fried eggs.
There's a reason why I check the new recipe feed on food.com every day: it's so I don't miss out on a gem of a recipe like this one! I love chorizo, lentils, and black beans, so when I saw this recipe I knew I had to try it.... it was great. I made my own lean turkey chorizo a day earlier to use in this, and served these as tacos. I skipped the eggs and cilantro, and just topped each taco with a bit of pico de gallo. These ended up being the best tacos I've ever made, and with the lentils and beans, it turned out to be a very healthy, balanced meal! Thanks for sharing this awesome recipe.
Fry Chorizo for 10 minutes till done draining excess grease.
Add all other ingredients.
Bring to a boil then reduce heat and simmer till thickened, stirring occasionally to prevent burning.