VickyJ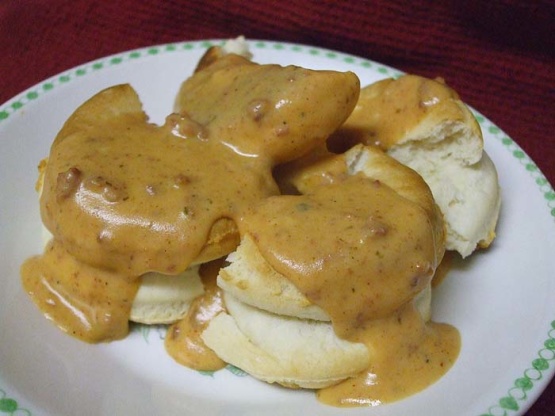 This is wonderful over biscuits, but it would also be fantastic over a pork tenderloin, grilled chicken breast, any white fish, and mashed potatoes.
I was unsure about this recipe because it only had three reviews. But wow, it is a winner. I followed the recipe exactly and it turned out perfect! I normally don't like gravy but I used it as a sauce on breakfast pizza with eggs and cheddar cheese. I am going to have to make some biscuits now to eat the leftovers because this gravy is so good I was eating it with a spoon.
In a medium saucepan, heat milk over very low heat, stirring occasionally. Make sure to keep an eye on the milk, don't let it boil.
Meanwhile, in a large skillet, heat the butter/margarine over medium high heat until melted, then add sausage. Crumble and cook the sausage until well-browned and no longer pink.
Sprinkle flour over the sausage and cook, stirring, for a minute or two.
Add warm milk all at once and cook, stirring, until thickened and bubbly.
Turn heat all the way down, add paprika (if desired) and season well with salt and pepper, stirring and tasting frequently until the flavor is to your liking. Turn off the heat. Gravy will continue to thicken as it cools. Serve over warm biscuits.