Rita1652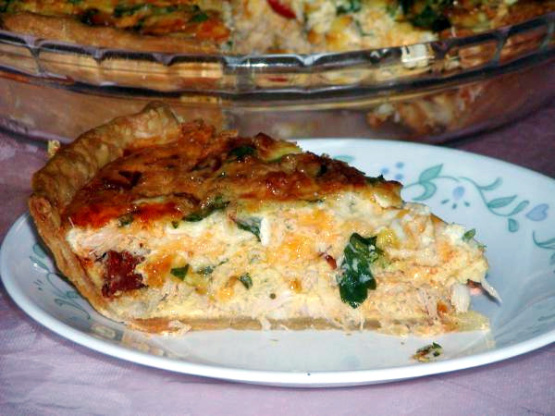 This I made with for unexpected company! A Cajun style quiche with a spicy kick and a delicate hint of crabmeat. To make as an Appetizers pour into a buttered 9x13 and bake 350 for 30 minutes and cut into small squares.This is a great travel food bring for pot luck or to a picnic.

Very tasty indeed! DH and I really enjoyed this. I added a tad more Choriza (3oz.+), I will add more next time. I also used 6 eggs & jalapeno pepper for the "hot" pepper cuz I wasn't sure what kind of pepper that might be and it's what I had on hand. The crab meat was delicate and delightful! I made recipe#282494, for the first time, and was very happy with the outcome. Also Recipe#15562. Top notch recipe, thanks a bunch Rita!
In a deep pie dish place crust.
Fry chorizo, onions, peppers and garlic 5 minutes.
Add cream, old bay, pepper and salt, parsley to eggs.
Place chorizo mixture into pie crust then sprinkle crab over chorizos, layer on the cheeses, pour on the egg mixture poke with a fork to get the egg mixture into the filling.
Bake 425 degrees for 15 minutes then 350 degrees for 30 minutes.