Chorizo and Egg Breakfast Burritos
PaulaG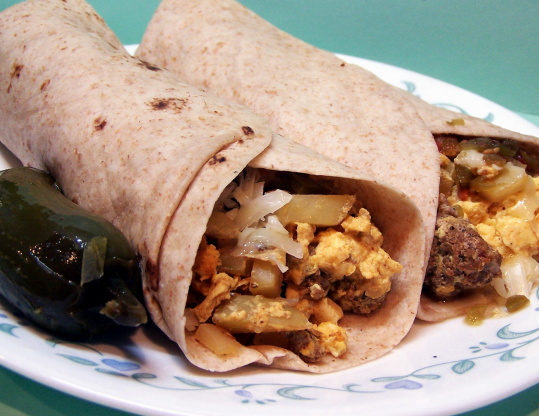 This was taught to me by a Mexican-American friend of mine in Texas. She always made homemade tortillas. I'm not that ambitious but the results are still good.

I absolutely loved this recipe!!! No need to change a thing! Thanks for posting Vicki!!
In small pan boil potatoes until soft. Time depends on the size of the dice. Drain and set aside.
Meanwhile, remove casings from chorizo. Cook over medium heat in a non stick skillet until browned. Drain. But do not wipe out skillet. You want a small amount of the fat to remain.
Add cooked sausage back into pan. Stir in potatoes. Cook and stir for about one minute.
Pour in beaten eggs. Stir. When eggs are almost done add cheese. Stir well. Cook until eggs are done and cheese is melted. Salt and pepper to taste.
Meanwhile, heat tortillas in microwave about 30 seconds until warm and soft.
Divide the egg mixture into two portions and fill tortillas. Add salsa to taste. Roll up burrito style.