Chorizo and Black Bean Soup With Eggs
sheepdoc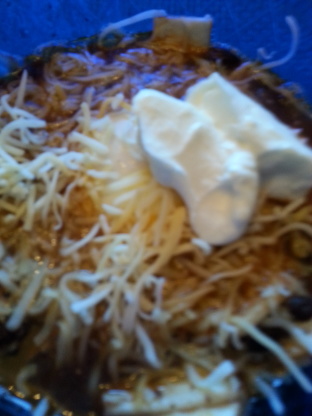 This recipe is from Every Day with Rachael Ray, which I modified to try to reduce the sodium. It's really quite tasty, and the egg is a nice touch - don't be afraid to try it!

This was pretty good chili. I poached the eggs but in the end just couldn't stomach egg on my chili. The other people in my family who will eat fried eggs were ok with that but I just couldn't do it. I used 1/2 the spices because DH is wimpy and the chorizo was really hot. I cut up a couple of tortillas for the bottom, topped with Mexican blend shredded cheese and a dollop of Fage.
Heat oil in Dutch oven or heavy pot and add the chorizo, cooking until it it crisps around the edges.
Add the onion, chili peppers, garlic, and spices. Cook, stirring, for a few minutes to bloom the spices.
Puree 2 cups of the beans (or one of the cans -rinsed and drained) with 1 cup of the chicken broth. I used my stick blender. Add to the pot with the remaining beans and broth and simmer over medium heat for a few minutes to thicken.
Meanwhile, poach or fry the eggs (easy over).
To serve, line the sides of the bowls with a few tortilla chips. Pour in the soup, top with the eggs and with the optional garnishes you desire.