Chopped Salad With Spicy Buttermilk Dressing
Ms B.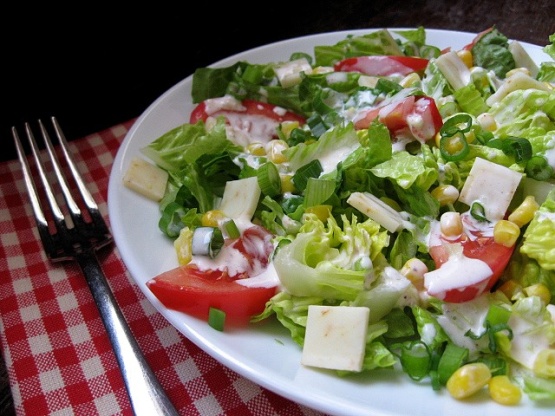 This salad is so good! I adapted this recipe (it originally included cooking some pork) to become just a salad that I could add any kind of meat to it, if I wanted. If you're in the mood for southwest flavors, give this a try!
Whisk together buttermilk, mayonnaise, scallion whites and garlic; Combine chile powder, salt and pepper and add to mixture.
Add romaine, tomatoes, corn, cheese, and scallion greens to the bowl (if you are adding meat, you would add it here).
Toss to combine and serve immediately.
Tip: To neatly cut up a head of romaine, halve it through the core, and make a few evenly spaced cuts lengthwise, leaving core intact. Chop crosswise into bite-size pieces.