Redsie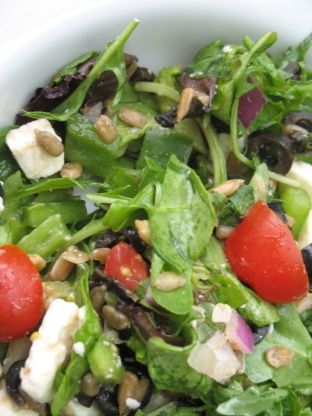 The key is chopping the veggies into small pieces. This is what gives the salad such a clean, fresh taste. The small pieces impart juices and flavor. No dressing required. This is good for lunch or as a side dish for dinner. It can be kept in the refrigerator for several days. NOTE: For a Fatoush-type of salad, toast or broil a slice of pita bread; break-up the crispy pieces into the salad.

This salad turned out really good! I was skeptical that it would be good without dressing, but it really was. It tasted so fresh and light and was easy to make too. I'm sure I will do this one again. Thanks for posting!
Chop the vegetables into small 1/4 inch pieces. Place in a big bowl.
Stir in the nuts.
Quarter the olives; add to the vegetables.
Stir in the crumbled cheese.
Chop lettuce into fine pieces; combine with vegetable mixture.
Chill several hours before serving.
This recipe is flexible. Add or delete vegetables and/or nuts to your liking. Diced zucchini, red peppers, fresh herbs, pumpkin seed kernels can all be used in any combination that appeals to your family.