loof751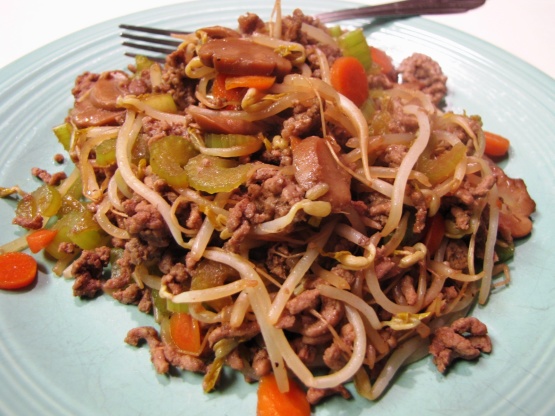 A recipe that I made for my boyfriend. Cause I usually don't like Chop Soui but he likes it. This recipe is from Ricardo. I tasted it and it's not so bad (for my dislike of chop soui). It's the sprouts that I don't like.

Great easy and tasty weeknight meal! I don't care for onions so left them out (used a bit more celery) and added a few mushrooms that I had on hand. I took your suggestion and used less oil too. The fresh ginger was great in this. Thanks for sharing your recipe!
In a large skillet or a wok, stir-fry the onions, celery and carrot in half the oil until onion begins to brown. Add garlic and ginger. Stir-fry 1 minute. Remove from the skillet and set aside.
In the same skillet, stir-fry the beef in remaining oil at high heat, breaking it until it's completely cooked and cooking liquid has evaporated.
Add the cooked veggies and bean sprouts. Add soy sauce and reheat well. Adjust seasoning.