tgladd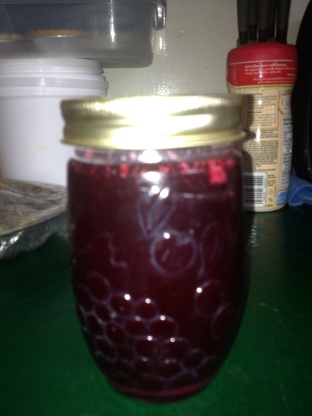 I finally found a recipe that thickens like syrup! Great on pancakes.

I did use the butter to reduce the foam and it worked! I just happened to have a leftover pancake from breakfast to do a taste test with what little syrup that didn't fit in the jar. Oh my...I really am going to enjoy this on my french toast some cold North Dakota morning!
3

cups chokecherry juice (see first step)
6 1⁄2 cups sugar
1⁄4 teaspoon almond extract
Wash chokecherries, place in a large kettle, barely cover with water and cook, covered, for about 30 minutes till the cherries are soft.
Mash gently and strain the chokecherry juice through a sieve or cheesecloth.
Pour 3 cups juice into a large kettle; stir in the sugar.
Cook on high, stirring constantly.
Boil hard for 1 minute.
Remove from heat and skim foam.
Add extract if using (almond extract gives a stronger cherry taste).
To can: Pour hot syrup into sterilized hot jars to within 1/8th inch from top.