kcstacy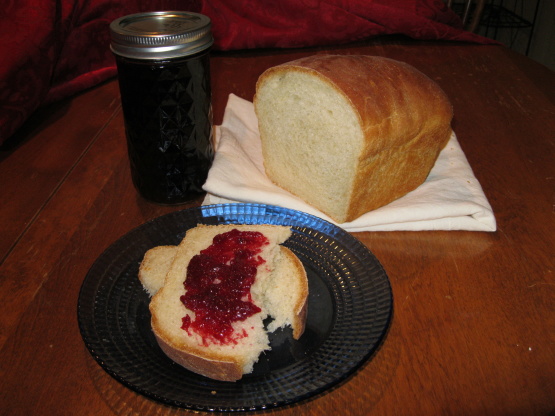 If you wish to make syrup, use twice as much juice to 1 package of pectin. Processing time not included in preparation time.

I've made about a dozen batches of this so far, and it's really excellent! A few differences - I started with chokecherry juice I'd already made and skipped to step 3. I also found from previous jelly-making experience that if you add 1/4 tsp of real butter, it reduces the amount of skimming required to almost zero, and doesn't foam up as badly while cooking. Then I added 1/4 tsp of almond extract to the entire batch of finished product before ladling into jars; it really brings out the chokecherry flavor.<br/>Re: processing time - I follow the Ball pectin box time recommendations, as the lids don't 'pop' until after they are removed from the water and are cooling. I also cool right-side up. <br/>Thanks for this recipe! ~TJ
Wash fruit and cover with water; simmer 15 minutes.
Strain juice.
Measure juice into 6- to 8-quart kettle.
Add pectin and stir.
Bring to boil; add sugar, stir, and bring to a rolling boil.
Boil exactly 2 minutes.
Skim and pour into jars.
Wipe rims and adjust lids.
Process in boiling water bath for five minutes; remove to a protected countertop and let cool completely undisturbed.