Chocolaty Peanut Butter Banana Bread
Cooksci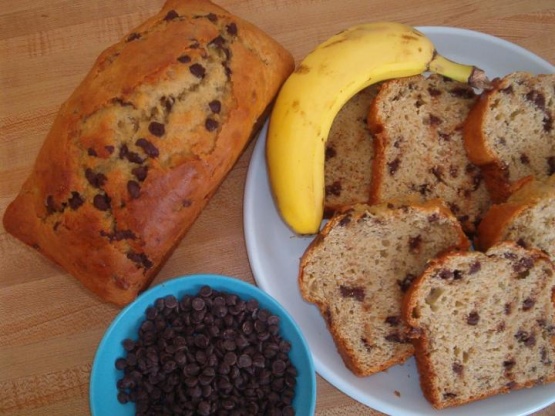 You HAVE to try this!! What a great combination-how can you go wrong with peanut butter, chocolate, and bananas?? This recipe is from the Better Homes and Gardens Annual Recipes cook book (1998).

As some one mentioned it can get dry. I've made this 3 different times, today I used organic peanut butter which has a little more peanut oil in it. It was PERFECT with the extra oil, so if you were to make this without organic peanut butter, I'd add maybe 1/4c. of oil to the recipe, to help with the dryness. oh and DO NOT OVER COOK that will also contribute to the dry factor. This is a great base recipe to play with. :o)
Grease the bottom and 1/2 inch up the sides of two loaf pans; set aside.
In a medium mixing bowl stir together the eggs, bananas, sugar, peanut butter, and milk.
Stir in the flour just until moistened (batter should be lumpy).
Fold in chocolate pieces and peanuts or pecans.
Spoon batter into the prepared pans.
Bake in a 350°F oven about 45 minutes or until a wooden toothpick inserted near the center comes out clean.
Cool in pans on a wire rack for 10 minutes.
Remove loaves from pans.
Cool completely on a wire rack.
Wrap and store overnight for easier slicing.
**If you do not have self-rising flour, substitute with 2 cups all-purpose flour plus 2 teaspoons baking powder, 1 teaspoon salt, and 1/2 teaspoons baking soda.