Prep 15 mins
Cook 45 mins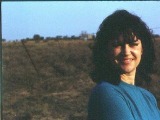 Use up old bread this way! Treat the pudding a bit like a souffle. Its fall won't be a disaster, as fall it will -- it's a comfort pud, not a fine-dining dish. Just try to serve as soon as it's ready. Serve with custard.
4 cups bread, diced, stale (or day-old, and don't remove crusts)
2 cups milk (500 ml)
3 tablespoons butter
2 tablespoons cocoa powder (bitter, any kind)
1 cup sugar (250 ml)
1⁄2 teaspoon salt
3 eggs, large
1 tablespoon orange zest (or lemon zest)
Directions
Set oven at 350 deg F/180 deg Celsius.
Use a large saucepan, and put in the bread and the milk.
Bring to a boil, stirring, and simmer until the milk has been absorbed.
Stir well or whisk to get a smooth texture. Pull off heat.
Add the butter, cocoa powder, sugar and salt and stir until well blended.
Grease an oven dish.
Add the egg yolks to the mixture and mix in well, and also add the citrus zest and stir
Beat the egg whites until stiff, and fold into the pudding mixture.
Ladle the mixture into the greased dish and bake 40 - 45 minutes.
Serve with custard or ice cream.
Most Helpful
Absolutely do not remove the crusts ~ I always use the whole loaf, & as I most often do, I used a 1-pound loaf of whole grain bread & followed your recipe closely although I used a generous measure of the zest! Wonderful comfort foot, for sure, & something we like whether it's hot or cold outside! Thanks for this great keeper of a recipe! [Made & reviewed in Zaar Chef Alphabet Soup recipe tag]