Chocolate Yogurt Cheesecake
Anemone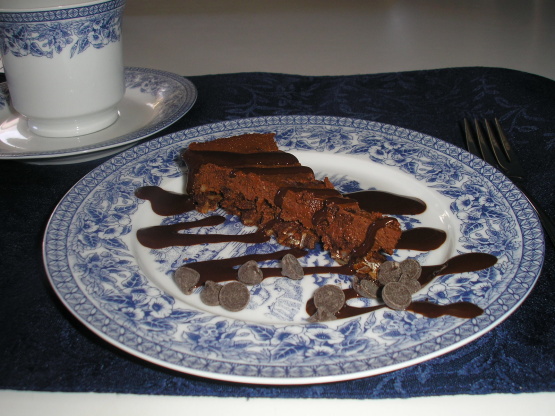 A delightful alternative from Hershey to regular cream cheese cakes. (Time for draining yogurt not included in prep time)

As far as taste goes, it wasn't bad, it had a satisfiable chocolate taste. However, the texture was not very much like a cheesecake, I was expecting it to be creamier but there really wasn't much of a creamy texture to it. The cornstarch in it gives it somewhat of a chalky texture. Overall it was an ok desert, but would not make again.
Prepare YOGURT CHEESE (recipe follows).
Preheat oven to 300°F.
Sprinkle graham cracker crumbs on the bottom of a 8-inch springform pan.
In medium bowl with whisk, gently mix yogurt cheese, sugar, cocoa and cornstarch until well blended.
Add eggs, vanilla and almond extract; stir until blended.
Pour into prepared pan.
Bake in oven for 55 to 60 minutes or until edges are set.
Remove from oven to cooling rack.
Cool 30 minutes at room temperature.
With knife, loosen cake from side of pan.
Refrigerate before serving.
Garnish with fruit, if desired.
YOGURT CHEESE: Line non-rusting colander or sieve with large piece of double thickness cheesecloth or large coffee filter; place colander over deep bowl.
Spoon yogurt into prepared colander; cover with plastic wrap.
Refrigerate until liquid no longer drains from yogurt, about 24 hours.
Remove yogurt from cheesecloth; discard liquid.