Parsley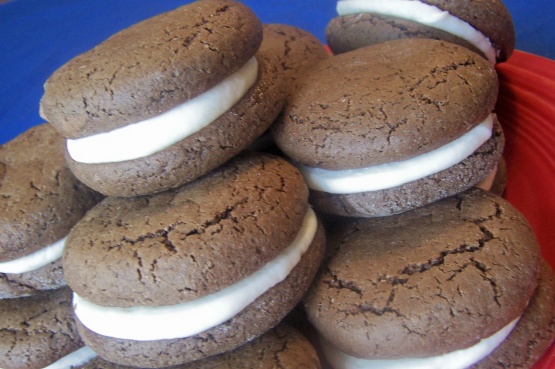 These are always a good pick for bake sales, school treats, picnics, etc. It's a slightly "lighter" (lower in fat) than other whoopie pie recipes.

Sorry, I don't typically give bad reviews, but this may help somebody that was looking for what I was. I was hoping for a cake like cookie and fluffy light filling like my Mom used to make. Instead, the cookies are more fudgy and flat and the filling is definitely not fluffy, but more sugary creamy consistency. Overall a much flatter and denser whoopie pie then I was looking for
Preheat oven to 425. Lightly coat cookie sheets with nonstick cooking spray.
Whoopie Pies: In a mixing bowl, beat sugar and oil until crumbly. Add eggs and beat well. In separate bowl, combine flour, cocoa, baking soda and salt.
Gradually beat flour mixture into sugar mixture. Add milk and mix together well.
With lightly lightly floured hands, roll dough into 1 1/2" balls. Place balls 2" apart onto cookie sheets lightly sprayed with nonstick cooking spray. Flatten balls slightly with bottom of lightly greased flat-bottom glass.
Bake at 425 for 5-6 minutes or until tops are cracked. Cool for 3 minutes before removing to wire racks to cool.
Filling: In a mixing bowl, beat together butter and confectioners' sugar. Beat in milk and extract until fluffy.
Pipe filling using pastry bag (or spread w/ knife) on to flat bottom of cooled whoopie pie and top with another whoopie pie to make a sandwich.