Chocolate Walnut Kahlua Balls (No Bake)
Juenessa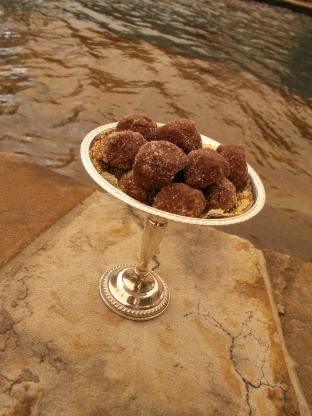 I have made these using dark rum, Grand Marnier and Bailey's Irish Cream, you can use any three with success.. I usually make these treats around the holiday season, but of coarse you can make them at any time. I make one batch using semisweet chocolate and one with white chocolate, these really should chill overnight before serving them, you'll be lucky if they make until the next day LOL! Yield is only estimated depending on the size of the balls --- you will LOVE these! :)

This was such an easy recipe to create and I had great results! I gave some of them to my dinner guests and neighbors, but made sure I had enough left over to take care of an occasional chocolate craving. The vanilla wafers and nuts really added a great texture to the balls -- I used pecans vs. walnuts. Your recipe really made a great hit at my Thanksgiving dinner!
1

cup semi-sweet chocolate chips (or use white chocolate chips)
1⁄2 cup sugar

3

tablespoons light corn syrup
1⁄2 cup Kahlua (or 1/2 cup dark rum)
2 1⁄2 cups finely crushed vanilla wafer cookies (measure 2-1/2 cups after crushing, about 10 ounces)
1 1⁄2 cups walnuts, finely chopped
1⁄2 cup powdered sugar (can use regular sugar for coating also)
Stir the chocolate over simmering water in a double boiler until melted and smooth; remove from heat.
Whisk in 1/2 cup sugar and corn syrup then the Kahlua.
In a small bowl mix together the chopped walnuts and crushed wafers; add in the chocolate mixture and mix well.
Shape into small balls.
Place powdered sugar in a shallow bowl.
Roll each ball in the powdered sugar to coat.
Place in an air-tight container and refrigerate overnight.