Chocolate Walnut Brownies
mianbao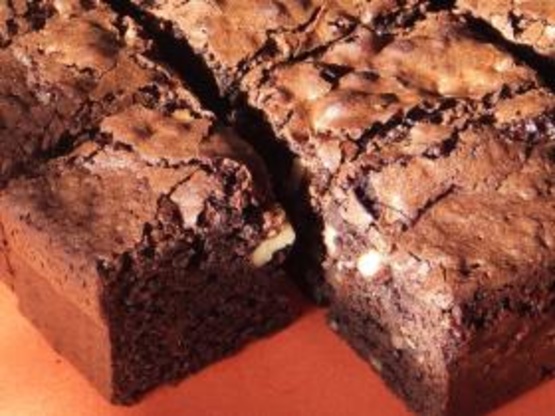 Melt in your mouth brownies, A quick step by step easy recipe for the perfect brownies.If you prefer not to have walnuts you can replace with chocolate chips, another nut like almonds or pecans or just remove the walnuts altogether.

I have attempted this recipe (twice). I'm not sure if it's just me not getting the conversions right for US measurements, or if it is the recipe itself. Tried once with bitter chocolate and once with semi-sweet chocolate (it does not specify). I did not use nuts either time (I just don't like them in desserts).
Also, it would be really helpful if there was a temperature listed for baking (I did 350* F) and if it included a recommended baking dish size (I used an 8x8).
It looks fine, and tastes okay, but something is just a bit off (I can't quite put my finger on it). So, on my own personal rating scale, I'm saying 3 stars, because it does have potential.
Fair warning... this is not a "quick, easy, step by step recipe"...
Maybe I will attempt it again in the future and tweak it.
Made for "Zaar Chef Alphabet Soup" tag game
-Rosie
P.S. It was a fun, frustrating and challenging recipe. Thank you xNatx for sharing this reciipe. And a special thanks to Mianbao & Ish for the conversion help and for trying this recipe along with me.
Pour a few drops of oil into a square cake tin.Sprinkle the tin with a little flour. Set aside.Put the chocolate and butter into a heatproof bowl.Put a little water in a saucepan and heat gently until it simmers. Stand the bowl over the water making sure it does not touch the hot water.Turn the heat down to medium. Using a wooden spoon,stir the chocolate and butter until it has melted. Remove the pan and stir in the sugar ,keep on stirring ocasionally.Set aside.
Sieve the flour and salt together into a large mixing bowl. Break the egg into a small mixing bowl.Pick out any pieces of egg shell that have fallen into the bowl. Beat the egg lightly with a fork until the yolk and the white are mixed together.Add the vanilla extract and set aside.
On a chopping board,roughly chop the walnuts using a kitchen knife.Set aside.
Add the chocolate mixture,beaten eggs and walnuts to the flour.Mix well until smooth,using a wooden spoon.Spoon the mixture into the prepared tin and level the surface with a palette knife.
Place the tin in the oven and bake for 35-40 minutes or until the brownies are well risen.Wearing oven gloves, take the tin out of the oven. Leave the brownies in the tin for about 5-10 minutes or until almost cold. Using a kitchen knife, carefully cut the brownies into 12 bars.Carefully remove the brownies from the baking tin using a palette knife.