Boomette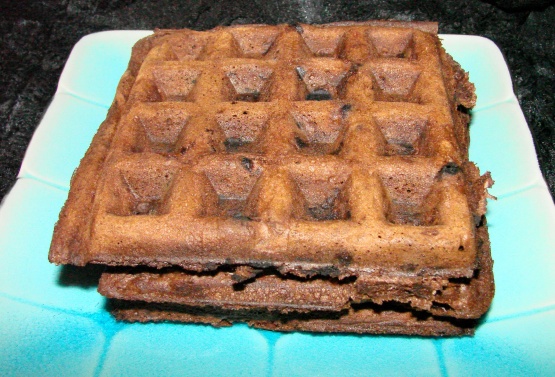 This recipe by Alton Brown is chocolately without being overwhelming. We enjoy them topped with a red berry jam, such as strawberry or raspberry.

While these weren't my favorite waffles, my family really liked them. When I made them, I took the other reviews that the chocolate flavor wasn't strong, into consideration. So, I used Hershey's special dark cocoa powder and mini chips. I also used a buttermilk substitute making my own for some of the buttermilk. When I did this, I used chocolate milk to make it.
Preheat your waffle iron according to manufacturer's directions.
In a medium bowl, whisk together the flour, sugar, cocoa powder, baking powder, salt and baking soda.
In another bowl, beat together the eggs, melted butter and vanilla, and then add the buttermilk.
Add the wet ingredients to the dry and stir in the chocolate chips just until combined.
Allow to rest for 5 minutes.
Ladle the recommended amount of waffle batter onto the centre of the iron.
Close the iron top and cook until the waffle is crispy on both sides and is easily removed from the iron.
Serve immediately or keep warm in a 200 degree F oven until ready to serve.