Chocolate Wafer Ice Box Cake With Fresh Strawberries
Ambervim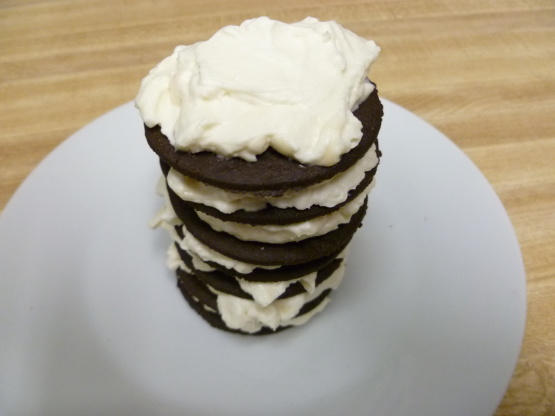 This is a really looker as well as a great tasting cake. If you just want the chocolate double the wafer cookies and eliminate the strawberries. You could also use another fruit...or even vanilla wafer cookies. You can make individual cakes or smaller versions with 3 or 5 cookies in the circle.
3

cups heavy cream

3

tablespoons sugar

1

tablespoon vanilla extract

1

(9 ounce) package chocolate wafer cookies (or, make your own!)

2

pints strawberries, 3/4 of them sliced (the rest for on top)
unsweetened cocoa (or chocolate shavings)
In a large bowl, beat cream, sugar and vanilla with an electric mixer on high speed until soft peaks form.
On a flat serving plate, arrange 7 cookies side by side in a circle, keeping 1 cookie in the center.
Spread with 1/2 cup whipped cream, making a 7-inch circle. Leave the tips of the cookies showing.
Spread layer of strawberries.
Repeat with remaining ingredients, making 5 layers of cookies and 5 layers of strawberries and ending with a layer of cream.
Crumble any leftover cookies.
Top with whole strawberries and cookie crumbles.
Cover with plastic wrap and refrigerate overnight.
To serve, dust top lightly with cocoa powder or chocolate shavings.
Time does not include overnight refrigeration. The refrigeration is important so the cookies go soft and cut easily.