Chocolate Truffle Cookies
ktenille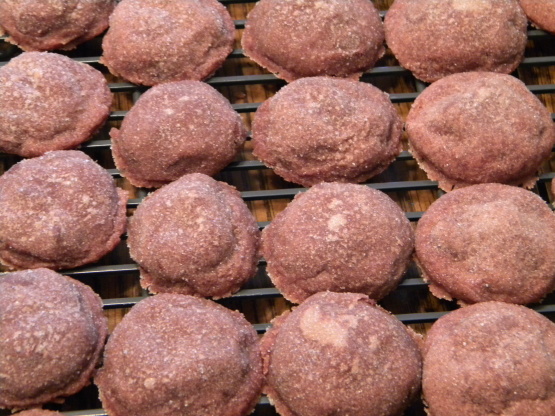 Pillsbury Bake-Off Winner... Light & delicious!

I want to know what magic keeps these cookies so smooth, creamy and truffle-like. These are GREAT cookies! Not the prettiest cookie in the world but the truffle texture made me forget all about that. They don't spread at all so you can place them very close together on the cookie sheet, saving a lot of baking time. I used my small cookie scoop (making them about 1" across and high, but with a flat bottom) and got about 65 cookies. It only took 3 cookie sheets and 30 minutes to bake all of them!
Cream butter, sugar and cocoa until light and fluffy.
Beat in sour cream and vanilla, then flour and chocolate chips.
Refrigerate for 1 hour.
Roll into 1 inch balls, then dip in chocolate sprinkles, if desired.
Place on cookie sheet and bake for 10 minutes at 325°F.
Cool and enjoy!