mliss29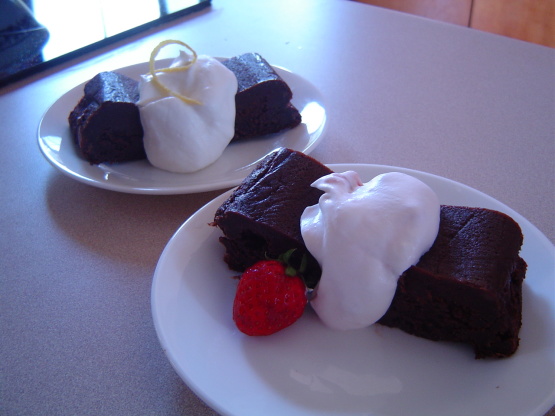 Taken from Classic French Kitchen Winning Touch Desserts. Must be made the day BEFORE serving.

This is the strangest review I have ever submitted. I cannot get this 'cake' to set - certainly not to the stage where I could cut it into pieces per the lovely photos. I have tried doing it in individual small ramekins, turning up the oven temperature (I live right on the beach with great humidity), and end up with a cake-like top crust, but still a pudding-like mixture below with the top crust tasting somewhat burnt. (PS, I have followed the directions re cooling and refrigerating). Having said that, however, making this in one dish at the stated temperature, (still with the make ahead and refrigerate directions) makes one awesomely sinful 'spoonable pudding' dish that my friends have fallen in love with - so much so that one of my friend had me make it to take to all her friends at the office! So, although this is in my puddings (rather than Cakes) cookbook, it is a definite keeper.
Put the chocolate in a bowl over a saucepan of water placed on low heat. Leave to melt, do not stir and make sure the water in the pan does not boil.
Meanwhile, preheat the oven to 375°F Break eggs into a bowl and sprinkle in sugar, stir well, then sprinkle in the flour and beat well until the mixture becomes light in color.
Place butter in a bowl and beat well for 5 minutes.
Add butter, 1 quarter at a time, to the melted chocolate, blending well with a spatula.
Then add the egg mixture, stirring constantly.
Grease a non-stick charlotte mould 7in in diameter with butter, or line an ordinary mould with waxed paper.
Pour in the batter, cover with a sheet of foil or a lid and place the mould in a water bath. Cook in the oven for 2 hours.
Make sure the water in the water bath does not evaporate during cooking, if it does, add some boiling water.
After 2 hrs, remove cake from oven and leave to cool completely, at least 3 hours, before un-moulding.
Once removed from the mould, place cake in the fridge. Serve the next day.