Pixie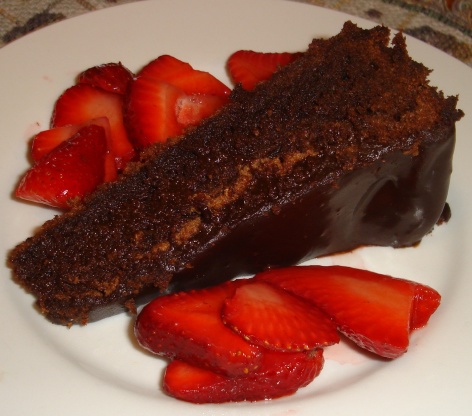 This is a very rich moist chocolate cake. I have made it many times. It is the last birthday cake my father requested before he passed away in 1999. I think it is a Bakers Chocolate recipe
Melt chocolate with butter.
Cool.
Beat 2/3 Cup of sugar with egg yolks till thick and lemon coloured.
Add Chocolate mixture and flour. blend well.
Beat egg whites till soft peaks form. Add 2 Tbsp sugar and beat till stiff and shiny peaks form.
Fold Chocolate mixture into egg whites. Blend well.
Pour into greased and floured 9" springform pan.
Bake at 375 for 35 - 40 minute.
Cake will be moist in centre.
Cool.
Cake will fall in centre.
Glaze:.
Melt chocolate with butter and water.
Blend until smooth.
Spread over cake.
Garnish:.
Melt chocolate. Put in Sandwich bag and cut a very small hole in 1 corner. Decorate cake with con centric circles. Starting at the centre draw a knife lightly (do not cut cake) through circles to outside edge. This will create a pattern similar to spider web.