Chocolate Topped Banana Cream Pie
KateL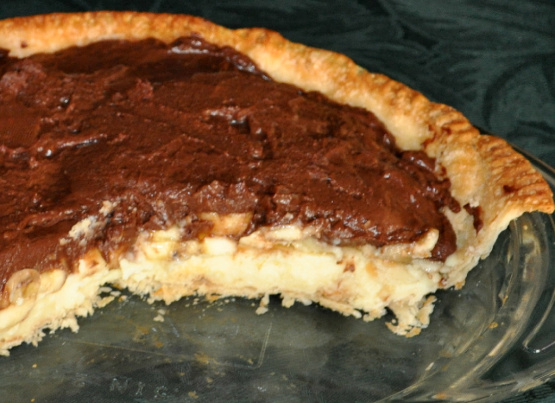 The original of this recipe was found in the Volume 2, 2003 Taste of Home's Chocolate Lover's Cookbook. Preparation time does not include the time needed for the custard to chill in the refrigerator, nor for the finished pie to chill for at least 2 hours.

So good and so decadent! fruit and chocolate go very well together, and this was no exception. I'm going to make this again for future holidays!
In a saucepan, combine sugar, cornstarch & salt, then gradually add milk & cream, stirring until smooth.
Cook & stir over medium-high heat until thickened & bubbly, about 2 minutes.
While stirring the egg yolks, add a small amount of this hot mixture to the egg yolks & continue to stir to mix well, before returning the egg mixture to the saucepan.
Bring to a gentle boil & cook for 2 minutes, stirring constantly, before removing from the heat & adding in the butter & vanilla while stirring to mix well.
Pour half of this mixture into the pastry shell, then cover & refrigerate.
Add the chocolate to the remaining custard, mixing well, then cover & refrigerate for 1 hour.
Arrange the sliced bananas over the filling, then carefully spoon the chocolate custard over the bananas.
Refrigerate for at least 2 hours before serving.