Chocolate Toffee Chip Cookies
Alia55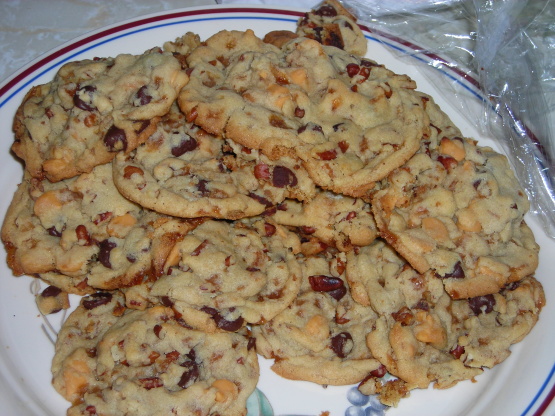 These are wonderful cookies, a huge crowd pleaser.

Not being much of a cookie eater, my teeth hurt just watching all that sugar go into this mix! That doesn't matter though--everyone who did eat the cookies said, "mmm" and that is the ultimate goal of any baker. Cookies weren't meant to be nutritious anyhow, so thanks Alia, for making my family happy.
Preheat oven to 375.
Cream shortning, butter, and sugars.
Add in eggs and vanilla.
Stir in remaining ingredients.
Drop rounded spoonfuls of dough onto an ungreased baking sheet.
Bake 8-10 minutes (till light brown).
Let cool slightly efore removing from sheet.