Chocolate Toffee Candy Cookies (Saltine Candy)
beckihrh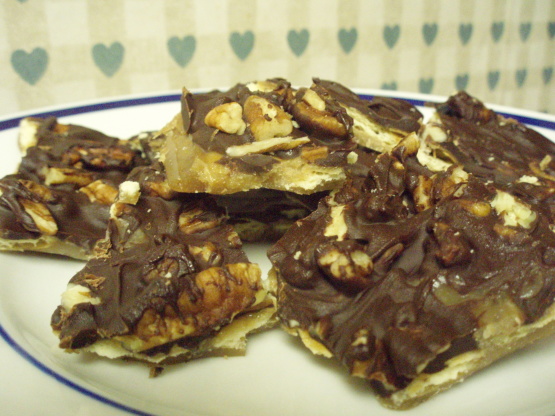 This simple candy shows up at all of my family gatherings .This recipe is quick and easy. The saltines may sound like a strange addition to something sweet, but I have never known anyone who made this recipe just once!

I did cover the cookie sheet with foil before laying the crackers down. I also used Ritz crackers - that's all I had on-hand. These were terrific! Very addictive. Made these again with saltines and we actually prefer these made with Ritz! Thanks for easy sinful recipe!
40

saltine crackers (about one sleeve, Do not use unsalted)

1

cup butter (2 sticks)

1

cup brown sugar

1

teaspoon vanilla extract

11

ounces semi-sweet chocolate chips
Preheat oven to 400 degrees.
Cover cookie sheet with a single layer of saltines.
Boil butter, sugar, and vanilla for one minute. Pour evenly over saltines. If needed, gently spread to make even. Bake for 7 minutes.
While toffee is still hot and bubbly, pour chocolate chips evenly on top of candy. When the chocolate chips begin to melt, gently spread chocolate over toffee. Freeze for one hour. Break into pieces and enjoy!
***I have sprinkled nuts and/or drizzled white chocolate over the top of this candy to make it even better, but the basic recipe is outstanding as well. You can also change the type of chocolate that you use in the chips. White chocolate chips and milk chocolate both work, but make the candy incredibly sweet.***.