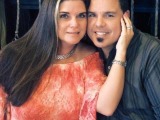 Recipe courtesy of Lynne Bargar in the September/October 2007 issue of Simple and Delicious Magazine.
Directions
Cut each cake roll into eight slices; set aside any chocolate coating that separates from rolls for garnish.
Line a 9-inch springform pan with cake slices so that the swirl of cream and chocolate is on it's side and can be seen when you take the springform pan off, completely covering the bottom and sides.
In a small bowl, whisk milk and pudding mixes for 2 minutes.
Let stand for 2 minutes or until soft-set.
Pour over cake.
Spread with whipped topping; sprinkle with any reserved chocolate coating.
Cover and refrigerate for at least 2 hours before serving.
**Cook time does not include refrigeration time of two hours.
Reviews
Most Helpful
When I saw this in Simple and Delicious, I knew I had to try it. When I found it posted on here, I knew I had to rate it! This is SOOOO easy to make, and looks so impressive! It was easy to serve after it chilled for a few hours too. My entire family LOVED it! I will absolutely make it again!

This recipe looks delicious. I am going to use this recipe for a magazine article
I saw this recipe in Simple and Delicious magazine as well and couldn't get over how cute this cake looked! It is so easy, rich, delicious and fun.