Chocolate Swirl Breakfast Cake
MelNTex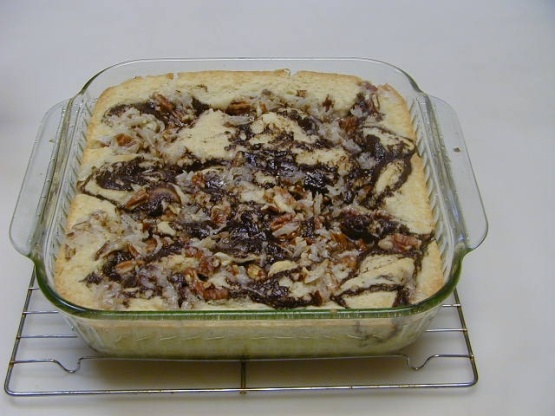 Who doesn't want chocolate for breakfast? Of course you can have this anytime of the day. This is a Southern Living Recipe.

As hard as I TRIED to mess this one up it still came out yummy! I already had the cake in the pan with the chocolate on top (not swirled in yet thank goodness) when I realized I hadn't added the egg. I scooped off as much of the chocolate as I could and stirred in the egg. My cake came out light chocolate with dark chocolate swirls but that was ok too. Then when I made the topping I didn't have any coconut. If it's this good with all my goof ups it must be killer good when it's made right!
Cake:.
Stir together first 5 ingredients. Pour batter into alightly greased 9 inch square pan.
Microwave chips and 2 tablespoons milk in a 2 cup glass measuring cup at HIGH 1 1/2 minutes or until melted, stirring twice.
Swirl melted chocolate gently through batter with a knife to create a marble effect. Sprinkle Coconut-Pecan Topping on top of batter. Bake at 350F for 20-25 minutes or until golden brown.
Coconut-Pecan Topping:.
Stir together all ingredients. 1 cup.