Chocolate Strawberry Tart
MA HIKER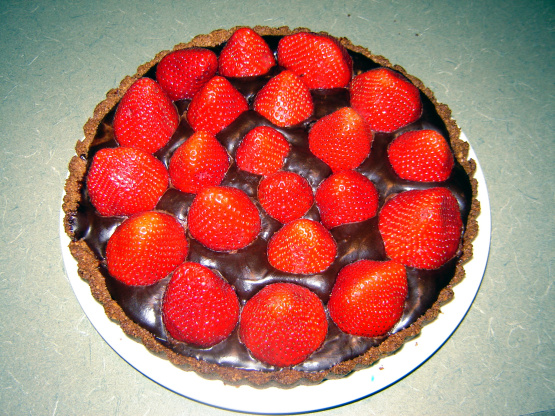 Can be made up to 1 day ahead. Refrigerate loosely covered.

My daughter just made this for me for mother's day! We got the recipe off womensday.com but it is exactly the same. This is delicious and easy (my daughter is 12). Will definitely make it again, try maybe a lower fat option than the heavy cream next time just to make it a teeny bit healthier!!!!
CRUST

33

social tea biscuits

1

cup pecans, toasted

2

tablespoons sugar

1

large egg white

FILLING

1

cup heavy whipping cream

3

tablespoons cold unsalted butter
1 1⁄2 cups semi-sweet chocolate chips

28

ounces strawberries, rinsed, patted dry, cap ends cut straight across, put cut sides down on paper towels
Heat oven to 350°F Coat a 9-in. fluted tart pan with removable sides with nonstick spray.
Crust: Break cookies into food processor. Add nuts and sugar; pulse until fine crumbs form. Add egg white; pulse just to blend. Press evenly over bottom and up sides of tart pan. Freeze 10 minutes, or until firm. Cover crust with foil.
Bake 20 minutes; remove foil. Bake 5 minutes more, or until lightly browned. Cool completely in pan on a wire rack.
Meanwhile, make Filling: Heat cream and butter over medium heat until butter melts. Remove from heat, add chocolate chips and let stand 2 minutes to melt. Whisk until blended and smooth. Let stand at room temperature about 1 hour until cool but still pourable. Pour into crust. Place strawberries cut sides down on filling. Refrigerate at least 2 hours for filling to set.
To serve: Put tart pan on a small, sturdy bowl; let sides fall down. Gently slide tart off pan bottom onto a serving plate.