Chocolate-Strawberry Bread Mediterranean Style
Pamela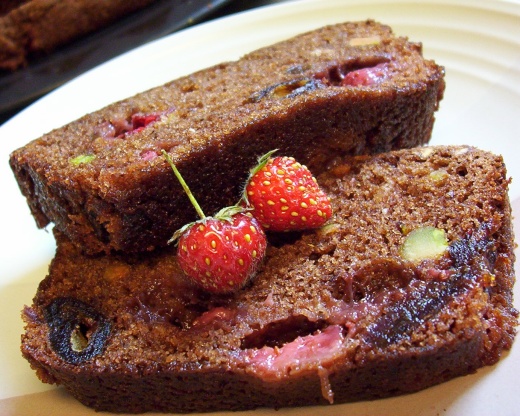 This bread also includes dates and pistachios, which is why I called it Mediterranean style. All the flavors are there and seem to compliment each other making a mild tasting bread.
Add 1/8 C of the sugar to the strawberries and let stand while combining other ingredients.
Beat the remaining sugar, eggs, oil, and yogurt together.
Stir in the pistachio nuts - I ground mine almost to a powder in the food processor.
Sift together the flour, soda, salt and cinnamon and stir into the sugar mixture.
Stir in the vanilla, dates and the standing strawberries with any juice.
Lastly, stir in the melted chocolate.
Pour the mixture into a loaf pan sprayed with non-stick spray.
Bake at 350 degrees for 50-60 minutes.