TishT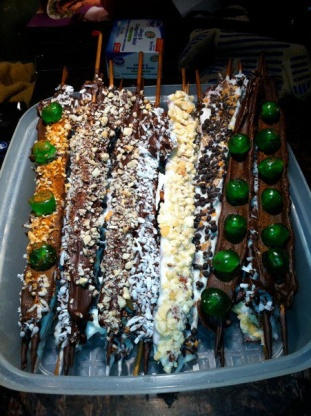 Posting this recipe from Taste of Home because I know my husband will love it!

Okay... bacon...married with Chocolate. My daughter and I were sold!!! Delicious and easy. Believe it or not... a big hit with all her friends for snack time!
12

slices bacon, thick-sliced

12

wooden skewers (12-inch)

6

ounces white candy coating, chopped

1

cup semisweet chocolate chips

1

tablespoon shortening
dried apple chips, chopped (optional)
pecans, chopped (optional)
pistachios, chopped (optional)
toasted coconut, chopped (optional)
kosher salt (optional)
Thread each bacon strip onto a wooden skew.
Place on a rack in a large baking pan.
Bake at 400º F for 20-25 minutes or until crisp.
Cool completely.
In a microwave, melt candy coating, stir until smooth.
Combine chocolate chips and shortening, melt in a microwave and stir until smooth.
With a pastry brush, coat the bacon strips on both sides with the melted coatings.
Top each strip as desired and place on waxed paper lined baking sheets.
Refrigerate until firm.
Store in the refrigerator.