Chocolate Shortbread X-Mas Trees
Fiddler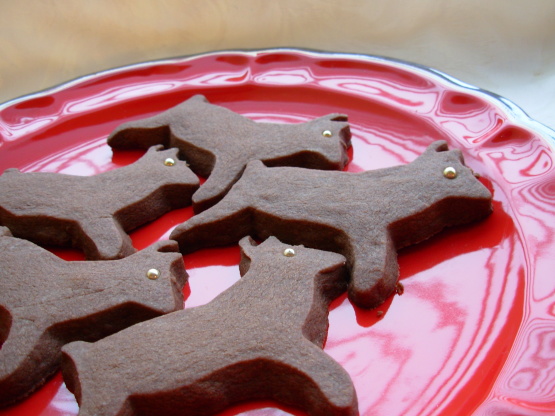 For a pretty gift, stack a few cookies, wrap in colored plastic food wrap and tie with raffia

These were wonderful--made them for my cookie boxes this year. I decorated them with the white icing in the recipe and some green and red sprinkles and they were so cute! They were rather soft-a nice texture for a cutout cookie--and the cinnamon/cocoa combination was really, really nice. Excellent! I'm sure I'll make them next year, too. thanks!
Heat oven to 350°.
Combine powdered sugar and butter in mixer bowl.
Beat until creamy, 1-2 minutes.
Add flour, cocoa, vanilla, cinnamon until well mixed for about 1-2 minutes.
Roll out dough on lightly floured surface one-half at a time (keeping remaining dough refrigerated), to 1/4-inch thickness.
Cut with X-mas tree cookie cutters.
Bake for 10-12 minutes.
Melt baking chips and shortening in 1-quart saucepan over low heat, stirring occasionally until smooth.
After cookies are cooled, drizzle glaze over cookies.
Let stand until set.