Chocolate Shortbread Squares
Sahds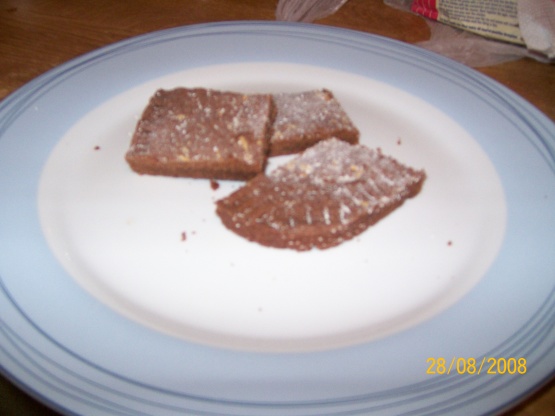 Simple chocolate shortbread, nothing fancy except the melt in the mouth buttery taste, with that indulgent chocolate taste. You'll love them, so easy to make, they'll satisfy any chocolate craving :)
You will also need: 20cm (8 inch) square tin and baking paper .
Turn on oven to 150 degrees (gas mark 2).
Cut out baking paper to shape of tin and place on base.
Shake flour and cocoa powder with a sieve into a large mixing bowl.
Cut margarine into small pieces and mix with a blunt knife until coated with flour.
Rub pieces between fingertips until mixture resembles fine breadcrumbs.
Stir in sugar with wooden spoon.
Hold bowl with one hand and squeeze mixture with other, allowing a dough to form.
Press mixture into tin with finger tips and smooth top with back of a spoon.
Use prongs of fork to press pattern around edge and make dots in centre (you can sprinkle with coconut now).
Bake for 30 minutes until firm to the touch.
Leave for 5 minutes to cool before cutting into 12 squares.
Cool further, sprinkle with icing sugar - or enjoy warm!